A delegation of Prof. Wiwut Tanthapanichakoon from Thailand, visited YNU
A delegation of Prof. Wiwut Tanthapanichakoon from Thailand, visited YNU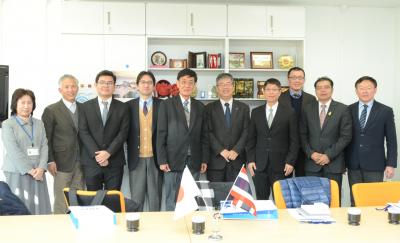 On January 7th Monday, 2019, a delegation of Prof. Wiwut Tanthapanichakoon from Thailand visited YNU. Prof. Tanthapanichakoon is a Professor Emeritus of Chulalongkorn University in Thailand and Tokyo Institute of Technology, a Vice President of Technology Promotion Association (Thailand-Japan) (TPA), and a Technical Advisor of SCG Chemicals. Also, Prof. Tanthapanichakoon received the award of the Order of the Rising Sun, Gold Rays with Neck Ribbon in 2016 for his contributions to the promotion of academic exchanges and mutual understanding between Thailand and Japan. Along with Prof. Tanthapanichakoon, Head of Chemical Engineering Department Piyabutr Wanichpongpan from King Mongkut's University of Technology Thonburi (KMUTT), Secretary General of Petrochemical Industry Club, Pravit Pornbhipatkul from the Federation of Thai Industries, and from SCG Chemicals, Process Technology Leader Visoot Duenkwang and Process Safety Engineer Chawarin Poyomrut visited YNU.
The visitors were welcomed by Executive Director and Vice President Fumihiko Nakamura, Vice Director of the Institute of Advanced Sciences (IAS) Atsumi Miyake, Assoc. Prof. Naoya Kasai from the Faculty of Environment and Information Sciences, and International Office Manager Tomoko Takeuchi. In addition, Mr. Toyoaki Nakarai who had been appointed as a visiting professor at the Faculty of Environment and Information Sciences at YNU for about 10 years also attended.
In the meeting, Vice Director Miyake explained that the delegation visited YNU for the purpose of tour of laboratories in the Chemical Engineering and Safety Engineering Building and exchanging opinions with related professors to establish a Department of Safety Engineering at KMUTT. Also, he told that he would like to discuss the possibility of future cooperation in the field of Process Safety during their visit. The meeting was held in a peaceful atmosphere from beginning to end, such as talking about the agreement concluded between KMUTT and YNU in March 2018.

Through this visit, the further development of exchanges between Thailand and YNU is expected.