The United Nations Development Programme (UNDP) seminar "African Development and Tokyo International Conference on African Development (TICAD)" held at YNU
The United Nations Development Programme (UNDP) seminar "African Development and Tokyo International Conference on African Development (TICAD)" held at YNU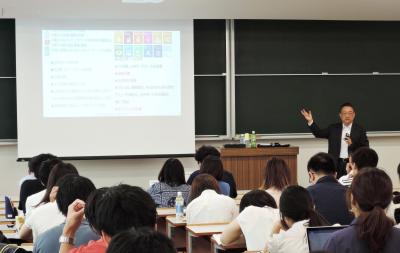 On June 27th (Wed), 2018, the UNDP seminar "African Development and Tokyo International Conference on African Development (TICAD)" was conducted by TICAD Program Advisor Shigeki Komatsubara of UNDP. This seminar was carried out based on the comprehensive agreement between UNDP and YNU.
In 2019, the 7th Tokyo International Conference on African Development chose Yokohama city as the site of the event and preparations are currently underway in many places.
The African economy declined during 2016; however, much global attention has now been focused on Africa as a new target of investment as its average GDP growth rate is 4.3%—relatively high and its population which accounts for about one-sixth of the world is still tending to increase. On the other hand, cooperation toward the development of various fields is urgent as African countries have various problems such as armed conflicts, high infant mortality rate, poverty and global environmental problem and it is pointed out that Africa will face the trends of a declining population of children and an aging of society in the late 21st century.
There was explanation about such a situation in Africa and the purposes of TICAD and a talk about career in the age of globalization.
This event was a valuable opportunity for participating YNU students to think about the problems as their own.