Institut Teknologi Sumatera (ITERA), Indonesia visited YNU
Institut Teknologi Sumatera (ITERA), Indonesia visited YNU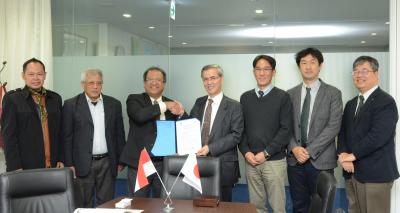 On March 13th Wednesday, 2019, Rector Ofyar Zainuddin Tamin, Vice Rector Sukrasno, and Head of International Affair Office Acep Purqon from Institut Teknologi Sumatera (ITERA), Indonesia visited YNU.
The visitors were welcomed by Executive Director and Vice President Fumihiko Nakamura, Dean of the Graduate School of Urban Innovation Satoru Sadohara, Assoc. Prof. Takayuki Suzuki and Assoc. Prof. Mamoru Kikumoto from the Graduate School of Urban Innovation, and International Office Section Chief Atushi Kurihara.   
ITERA is a state university established in Lampung in 2014 under the Presidential Regulation with the support of Institut Teknologi Bandung (ITB), which has an exchange agreement with YNU. On this occasion, an agreement between ITERA and the Graduate School of Urban Innovation of YNU has been signed. In the meeting, they discussed the possibilities of dispatching faculty members and staff of ITERA to YNU and a student exchange. Also, Rector Tamin told that Sumatera is a land with rich forests, many earthquakes and tsunamis occur like Japan as well, and that they would like to consider about various joint researches including these fields in the future. Then, an active exchange of opinions was held.
Through this visit, the further development of exchanges between ITERA and YNU is expected.