Ambassador of the Republic of Uzbekistan to Japan paid a courtesy visit to YNU
Ambassador of the Republic of Uzbekistan to Japan paid a courtesy visit to YNU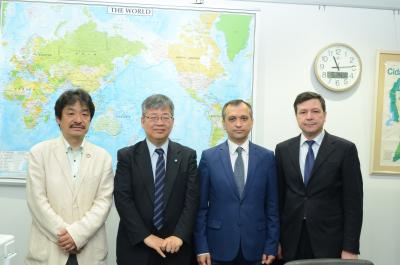 On May 14th Tuesday, 2019, Mr. Gayrat Fazilov, Ambassador of the Republic of Uzbekistan to Japan, and Mr. Siroj Azizov, First Secretary, Education, Science, Innovation and Sports Section and Ms. Yasuko Ikeda, Russian - Japanese Interpreter visited YNU. The visitors were welcomed by the Vice-President Fumihiko Nakamura and International Office Manager Tomoki Nitta.
After the welcome remarks and the introduction of the outline of the university from Prof. Nakamura, Ambassador Fazilov explained the words of thanks and the purpose of this visit. Starting with Prime Minister Abe's visit to Uzbekistan in 2015, the Uzbek-Japan Innovation Center of Youth (UJICY) is currently established in Uzbekistan, and the education sector is a high priority issue in Uzbekistan. Specifically, most of the 700,000 high school graduates every year wish to go on to higher education institutions, however the university capacity in Uzbekistan can only cope with about 9% of the graduates. To solve this situation, the government set a goal to improve up to 25% in five years by increasing the admission capacity of universities in the country, by increasing international partner universities in order to send more capable students for study abroad, by establishing international joint universities in collaboration with foreign universities and universities in Uzbekistan, etc.
After the meeting, Ambassador Fazilov visited the laboratory of Professor Yasutaka Fujimoto and Associate Professor Takao Tsuji of Faculty of Engineering, who receive master students from Uzbekistan. At the each laboratory the students from Uzbekistan explained the contents of research and demonstrated the experiment equipment, and direct exchanges were held between the ambassador and the 5 master students from Uzbekistan.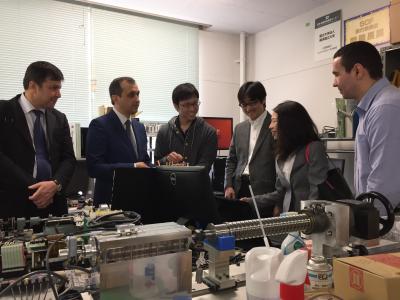 Through this visit, the further development of exchanges in education and research between the Republic of Uzbekistan and YNU is expected.