Ambassador of the United Arab Emirates Tokyo paid a courtesy visit to YNU
Ambassador of the United Arab Emirates Tokyo paid a courtesy visit to YNU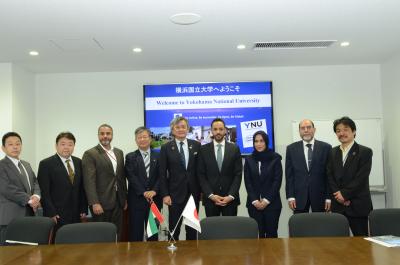 On May 13th Monday, 2019, His Excellency Mr. Khaled Omran Sqait Sarhan Alameri, Ms. Muna Almaeeni, Deputy Ambassador, Mr. Ammar Alsarmashi, Second Secretary from Embassy of the United Arab Emirates Tokyo and Mr. Sohail Zubairi, Project Advisor from The Dubai Islamic Economy Development Centre (DIEDC) visited YNU.
The visitors were welcomed by President Yuichi Hasebe, Vice-President Fumihiko Nakamura, Professor Keiii Ujikawa from Graduate School of International Social Sciences, Senior Research Fellow Ikuo Kato from Center for Economic Growth Strategy and International Office Manager Tomoki Nitta.
This visit was made before the special lecture by Mr. Sohail Zubairi in the course "Current Investment Environments in Islamic Economic Areas" offered by College of Economics which has been held since 2017 at YNU. At the meeting, President Hasebe firstly made a welcome greeting and an introduction of the outline of the YNU. Ambassador Alameri introduced about the education and science in the Middle East which are not well informed through mass media, by referring to an example of UAE's unmanned probe named 'Hope' which is set to launch from the Tanegashima Space Center in Japan to Mars in cooperation with Mitsubishi Heavy Industries in 2020. And also Mr. Sohail Zubairi introduced about Islamic finance, halal industry, and lifestyles which were to be talked in his lecture at the College of Economics afterwards.
There are already an exchange agreement and exchanges in the field of bioengineering between the Faculty of Engineering, YNU and College of Medicine and Health Sciences, United Arab Emirates University. However, through this visit by the Ambassador and the lecture on Islam at the College of Economics, the further development of exchanges of education and research with the United Arab Emirates and YNU is expected.