McGill University, Canada paid a courtesy visit to YNU
McGill University, Canada paid a courtesy visit to YNU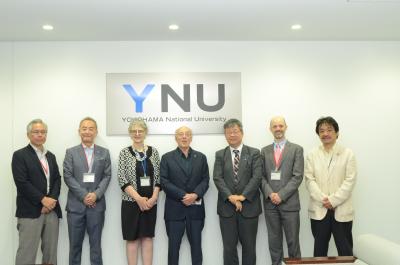 On May 28th Tuesday, 2019, Dr. Henry Mintzberg, Professor and Program Founder, and Ms. Dora Koop, Managing Director, from McGill University, Canada visited YNU in relation to the International Masters Program for Managers(IMPM). The visitors were welcomed by Vice-President Fumihiko Nakamura, Prof. Hiroshi Morita and Prof. Daniel Arturo Heller from Graduate School of International Social Sciences, Part-time lecturer Kentaro Iijima and International Office Manager Tomoki Nitta.
The IMPM is an International Business Program founded by Dr. Henry Mintzberg, and operated by five institutions in the world; Lancaster University, Lancaster, UK, McGill University, Montreal, Canada, EBAPE/FGV, Rio de Janeiro, Brazil, Indian Institutes of Management, Bangalore, India, and Yokohama National University, Yokohama, Japan. From May 27th, 2019 for 10 days, the Japan Module of the program was held by YNUBiz, i.e. Graduate School of International Social Sciences, Business Administration of YNU, and 34 managers from 20 countries from the global companies and organizations learned about Collaborative Mindset which is the theme of the Japan Module.
In the meeting, it was stated that YNU's green campus is an ideal environment that encourages self-reflection for the participants who are busy and active daily in business. In addition, the outline of the program is also introduced and in the case of the Japan module, the unique culture in Japan and the Japanese way of thinking are learned through company tours to Isuzu Fujisawa Plant, Fujifilm, AsahiKASEI, Yokohama City Hall, All Nippon Airways (ANA) as well as sight visit to Meiji shrine, etc. In the class room, the participants exchange their experiences about the collaborative mindset and acquire management knowledge through discussions.
Through the implementation of the IMPM, it is expected that the exchange with McGill University will further develop, and YNU is further recognized internationally through the world's top participants.