The World Bank Seminar was held at YNU
The World Bank Seminar was held at YNU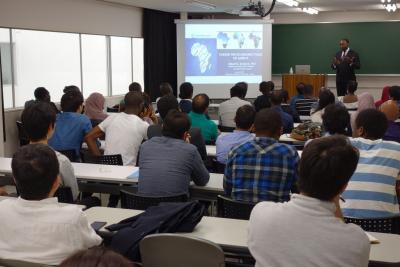 On June 3, 2019, the World Bank Seminar was held at the Civil Engineering Building in Yokohama National University. Dr. Albert G. Zeufack, the World Bank's Chief Economist for Africa, was invited to give a lecture entitled "Taking the Pulse of Africa's Economy". Mr. Koichi Omori, a Senior Communications Officer at the World Bank Tokyo Office, who organized this seminar, also gave a speech.
Dr. Zeufack has compiled an African Economic Report published twice a year, and visited our university as a part of tour in Yokohama, where the 7th Tokyo International Conference on African Development (TICAD 7,
https://ticad7.city.yokohama.lg.jp/

) will be held. More than 50 students and professors participated in the seminar, including the international students for the World Bank Scholarship Programs, and had an active discussion with Dr. Zeufack. After the seminar, the reception was also held for Dr. Zeufack and Mr. Omori and participants had further discussions with them.
There are two World Bank Scholarship Programs at our university, and students from different countries are studying at Public Policy and Taxation (PPT) Program in the Graduate School of International Social Sciences and the Infrastructure Management Program (IMP) in the Graduate School of Urban Innovation.
This visit by Dr. Zeufack and Mr. Omori is expected to develop further exchanges between the World Bank and YNU.