East China Normal University, ECNU, China paid a courtesy visit to YNU
East China Normal University, ECNU, China paid a courtesy visit to YNU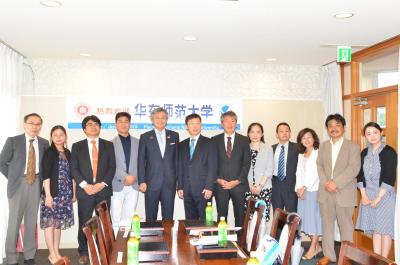 On June 20th Tuesday, 2019, Vice President Rongming Wang, Prof. Rongchun Ruan, College of Fine Art, Ms. Weijing Li, Deputy Director of Archives, Ms. Ying Qiao, Director, Office of Graduate Affairs, Graduate School, Ms. Anqi Lyu, PR Division and Ms. Xiaoyan Liu, Program Officer of International Exchange Division from East China Normal University, China visited YNU.
The visitors were welcomed by Vice President Fumihiko Nakamura, Prof. Keiji Nagai, the Dean of College of Economics, Prof. Haoyuan Xu, International Strategy Organization and Special Advisor to the President, Prof. Motonari Tanabu and Prof. Keiji Ujikawa from Graduate School of International Social Sciences, and International Office Manager Tomoki Nitta.
Since 2000 when ECNU and YNU has concluded the academic and student exchange agreement, both the universities have interacted in various ways, including researcher exchanges, the double degree program in the College of Economics, the MBA program in the College of Business Administrations, acceptance of ECNU students in overseas training programs at YNU, etc.
In the meeting, VP Nakamura stated the importance of the opportunity to meet and discuss because of close exchange, as well as the acknowledgment regarding the continuation of the exchanges. In the following remarks of VP Wang, it was introduced that the Chinese Government appointed VP Wang to the President of Shanghai University of International Business and Economics on May 20, and along with the further development of the above-mentioned programs between ECNU and YNU, VP Wang also expressed his hope for the exchange development between Shanghai University of International Business and Economics and YNU.
In the following meeting with Dean Nagai of the College of Economics, Dean Nagai introduced that the progress of the double degree program was discussed at the meeting with the delegation from the Faculty of Economics and Management, ECNU, which was held a week before this visit. Also, Dean Nagai introduced the plan that in joint research, Economic faculties of YNU would visit ECNU and hold a workshop in this September, and in November approximately 20 people including students, teachers and staff of ECNU would visit YNU. Furthermore, it was introduced that both universities were planning a joint research in 2020 to consider local issues as global in the field of Rural, Tourism, and Social Security.
After the courtesy visit, the delegation saw a part of the Shaup Collection and the original book of the Kaitai Shinsho, which are displayed as a rare book in the Central Library. The Professor and staff who are specialized in art and history asked some questions about the rare books, it became a very interesting visit.
After that, President Yuichi Hasebe participated in the luncheon, and further exchange development between ECNU and YNU was promised mainly focusing on the College of Economics and College of Business Administrations.