Dalian University of Technology from China paid a courtesy visit to YNU
Dalian University of Technology from China paid a courtesy visit to YNU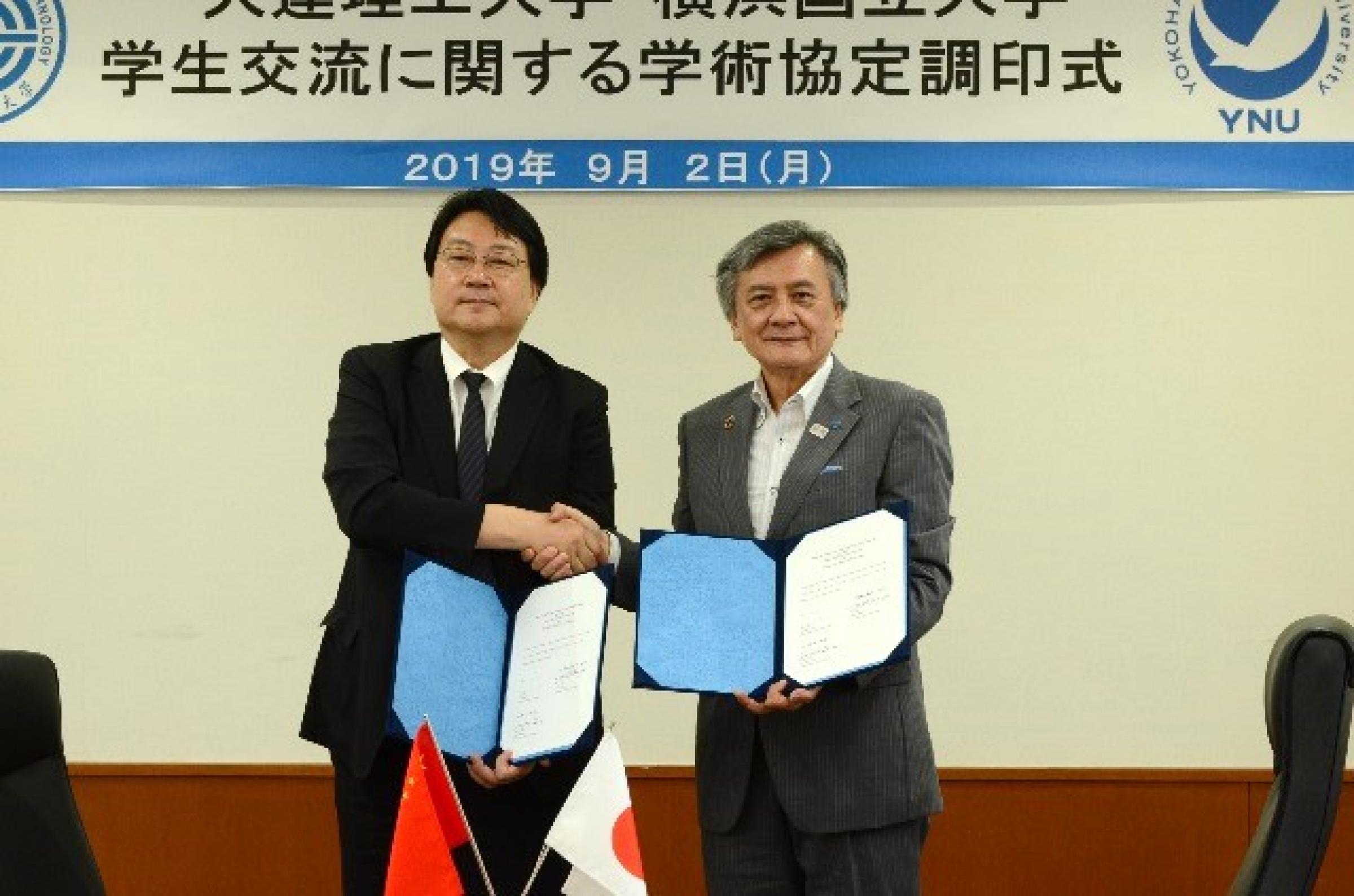 On September 2 Monday, 2019, Vice President Song Yongchen, Prof. Kang Xu Dong, Dean of R&D Institute of Technology, Assis. Prof. Mei Hongyu, Deputy Director Hao Tao, Intellectual Property and Technology Transfer Section, Intellectual Property Administration Committee Office, and Section Chief of International Office Yuan Qu, from Dalian University of Technology (DUT) paid a courtesy visit to YNU.
The visitors were welcomed by President Yuichi Hasebe, Prof. Osamu Umezawa, Dean of Faculty of Engineering, Prof. Hideo Ohtani, Dean of Faculty of Environment and Information Sciences, Prof. Satoru Sadohara, Dean of Faculty of Urban Innovation, Prof. Kazushi Sanada, Dean of College of Engineering Science, Prof. Yu Kawazoe, Dean of College of Urban Sciences, Prof. Naoyoshi Tamura, Faculty of Environment and Information Sciences, Prof. Haoyuan Xu, International Strategy Organization and Special Advisor to the President, Prof. Motonari Tanabu, International Strategy Section of International Strategy Organization, and International Office Manager Tomoki Nitta.
At the courtesy visit, President Hasebe welcomed the guests by expressing his gratitude, reflecting his attendance to the DUT's 70th anniversary Celebration and Friendship Exchange Meeting with YNU students. President Hasebe stated that Deans of related YNU faculties and colleges attended this time in order to further deepen mutual understanding by citing the words "Alumni Friendship" proposed by DUT President Guo which means to deepen international exchange. In response to this, Vice President Song expressed his gratitude and thanks for attending the commemorative ceremony, and each teacher was briefly introduced.
In the subsequent discussions, the exchange situation was explained that more than 100 DUT students visited YNU for a short program in the past three years, on the other hand YNU dispatched 10+ students in the same period since the Agreement on Academic Exchange was signed in 2009 and the Memorandum of Understanding on Student Exchanges was signed in 2011. Based on that, Vice President Song presented two things: The first was that DUT expected a long-term student exchange and in order to foster the long-term exchange DUT started a new scholarship scheme for Japanese students. The second was that DUT expected to develop the faculty level research exchange which has been fostered till now into the university level exchange. To that end, knowing each other's specialized fields and research areas well was proposed.
President Hasebe stated that the possibility of dispatching exchange students from the Department of Mechanical Engineering and Materials Sciences and the possibility of accepting exchange students at the Graduate School of Urban Innovation and the Graduate School of Engineering Sciences that are taught in English will be considered in future. Rregarding the double degree program, YNU would like to take an initiative of consulting about the DUT's entry to the T.I.M.E. Association. President Hasebe also introduced the 8 research areas of Institute of Advanced Sciences which conducts the world level advanced researches and indicated the possibility of research collaboration.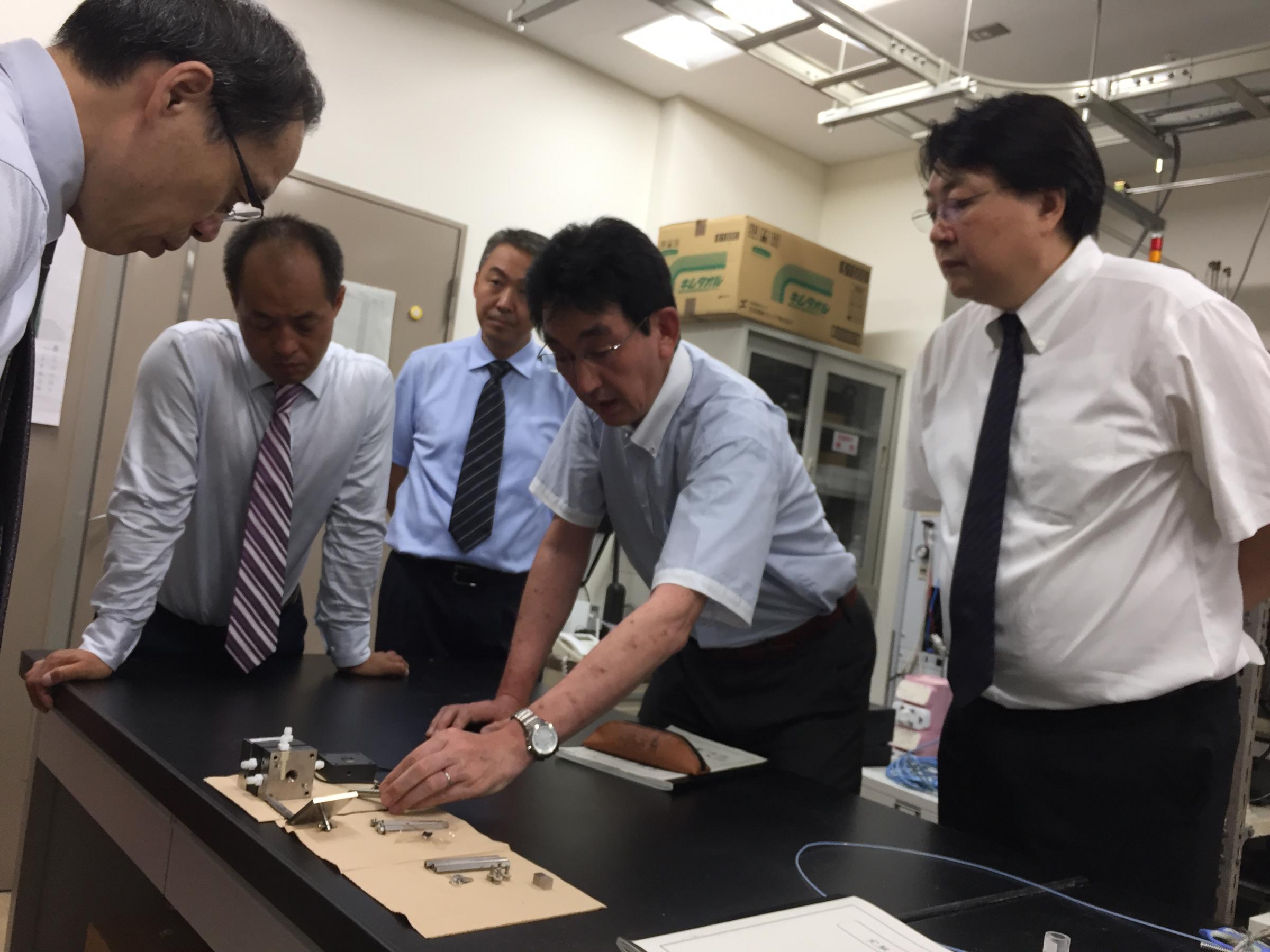 After the meeting, they had a laboratory tour to Prof. Atsumi Miyake of Institute Advanced Sciences and Prof. Shigenori Mitsushima of Faculty of Engineering. The Prof. Miyake's laboratory explained the research contents related to the safety of energy systems, and the Prof. Mitsushima's laboratory explained the research about the hydrogen energy conversion chemistry by using the exhibition panels and experimental equipment.
In this courtesy visit, the signing ceremony for the renewal of student exchange was also held. Based on the idea of "Alumni Friendship", it is expected that international understanding and education / research collaboration is further promoted by cultivating friendship through mid- to long-term student exchanges, class participation and further research cooperation between the faculty members.