University of Padova from Italy paid a courtesy visit to YNU
University of Padova from Italy paid a courtesy visit to YNU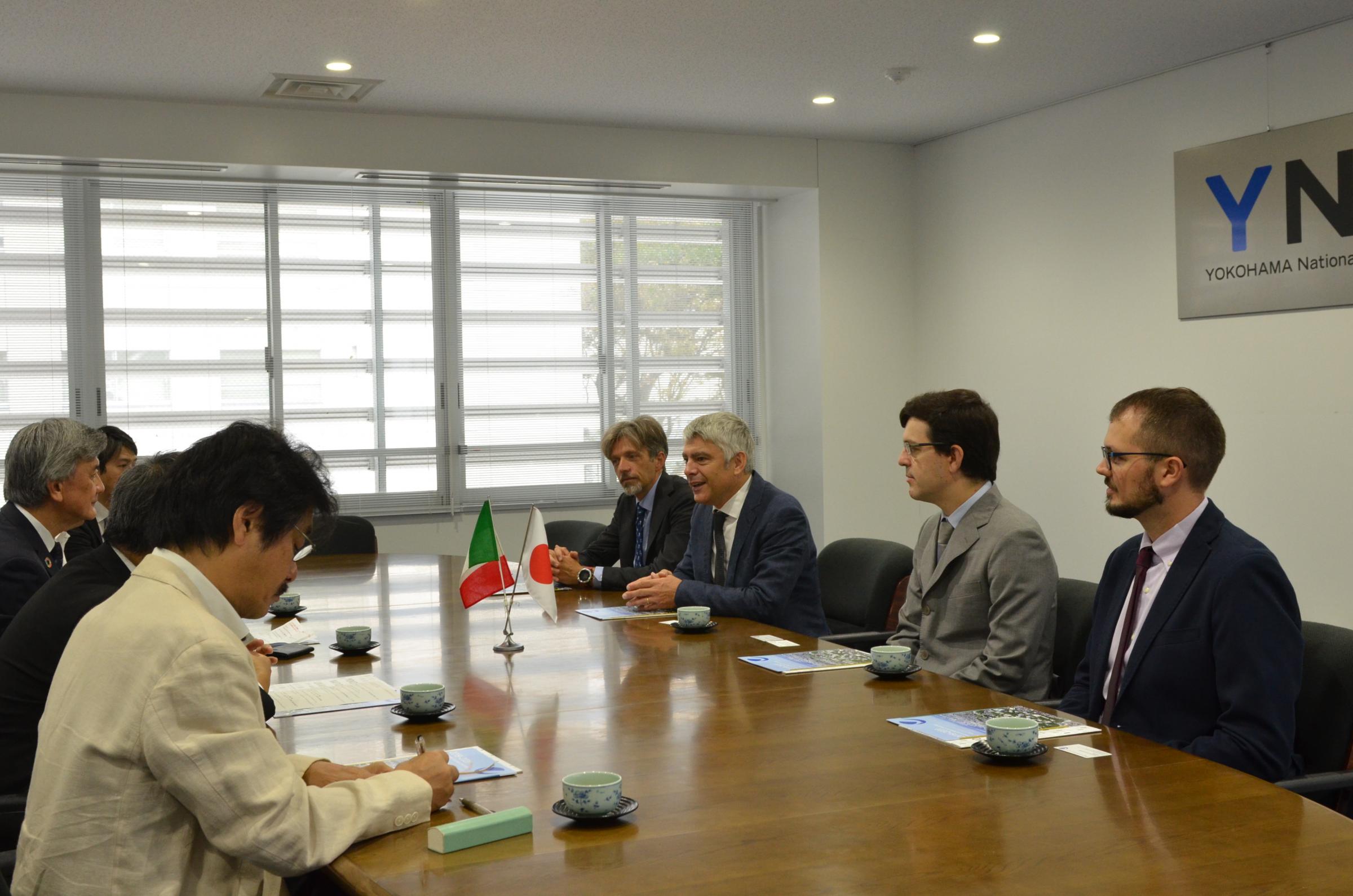 On September 13 Friday, 2019, Prof. Roberto Oboe and Dr. Fabio Tinazzi from Department of Management and Engineering, Prof. Enrico Negro from Department of Industrial Engineering, and Prof. Riccardo Rossi from Department of Civil, Environmental and Architectural Engineering from University of Padova paid a courtesy visit to YNU. The visitors were welcomed by President Yuichi Hasebe, Vice President Fumihiko Nakamura, Prof. Osamu Umezawa, Dean of Faculty of Engineering, and Assoc. Prof. Tomoyuki Shimono from Faculty of Engineering and International Office Manager Tomoki Nitta.
This courtesy visit was held in relation to the second workshop for the three fields of mechatronics, Transportation, and energy which was held by the Faculty of Engineering on September 12 and 13. The University of Padova and YNU signed an initial agreement between faculties in 2014 and since then in 2017, the both actively conducted international collaborative research and student exchange activities such as the agreement between universities and the recommendation of joining T.I.M.E. Association, a consortium for double degree programs.
During the courtesy visit, while reflecting on these exchanges so far, the current situation of the double degree program was also shared. Currently, a student from the Graduate School of Engineering Science of YNU has been dispatched to the University of Padova since last October, and vice versa the University of Padova plans to send a student to YNU in the future. By sharing the situation, the both universities recognized that the double degree program by T.I.M.E. was on track. Also YNU adopted for the Erasmus + program applied by the University of Padova this year, and an exchange program for both students and faculty is scheduled to start in the future.
Through this courtesy visit, further exchanges with the University of Paovda are expected.