Chinese Service Center for Scholarly Exchange, Ministry of Education of the People's Republic of China paid a courtesy visit to YNU
Chinese Service Center for Scholarly Exchange, Ministry of Education of the People's Republic of China paid a courtesy visit to YNU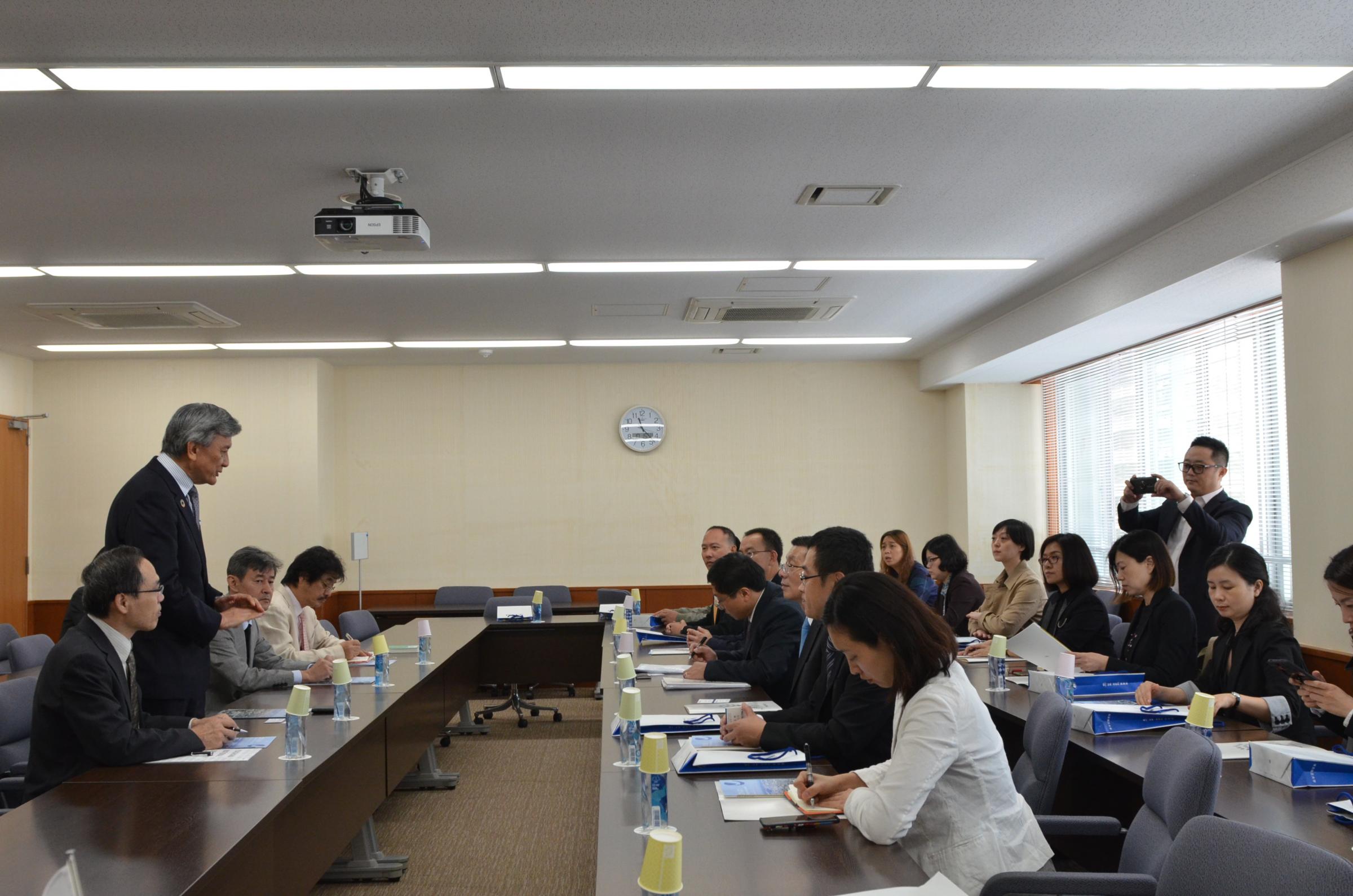 On October 15 Tuesday, 2019, a delegation of 15 people led by Director-General Cheng Jiacai, Chinese Service Center for Scholarly Exchange (CSCSE), Ministry of Education of the People's Republic of China paid a courtesy visit to the University. The visitors were welcomed by President Yuichi Hasebe, Executive Director (Research and Evaluation) / Vice President Izuru Umehara, Prof. Haoyuan Xu, International Strategy Organization and Special Advisor to the President and International Strategy Section of International Strategy Organization, and International Office Manager Tomoki Nitta.
This time managers who supports science parks, entrepreneurship, and incubation in each region of China were visited. CSCSE mainly engages in international education services and offers supports inbound / outbound students and overseas returnees by providing incubation services and linking students to large companies like HUAWEI. The purpose of this visit was to learn the establishment of research results and technology transfer, as well as to see the practices of university-industry collaboration in YNU.
Prior to the courtesy visit, the visitors visited KSP, Inc. (The Kanagawa Science Park), where the Executive Director, Mr. Kiyosaku Ebina, Executive Director of the University, introduced their business of supporting start-up businesses and fostering entrepreneurship. Also the visitors visited Assoc. Prof. Tomoyuki Shimono's laboratory in the KSP.
After the courtesy visit, the visitors visited the Research Initiatives and Promotion Organization of YNU where the student Formula F1 was introduced and a luncheon meeting with Prof. Naoya Kaneko, Head of Department of Industry-University-Government Collaboration and several Chinese students was held.
This visit was a valuable opportunity to exchange opinions with people in the same position regarding university-industry collaboration and innovation support.