China Foreign Affairs University from China paid a courtesy visit to YNU
China Foreign Affairs University from China paid a courtesy visit to YNU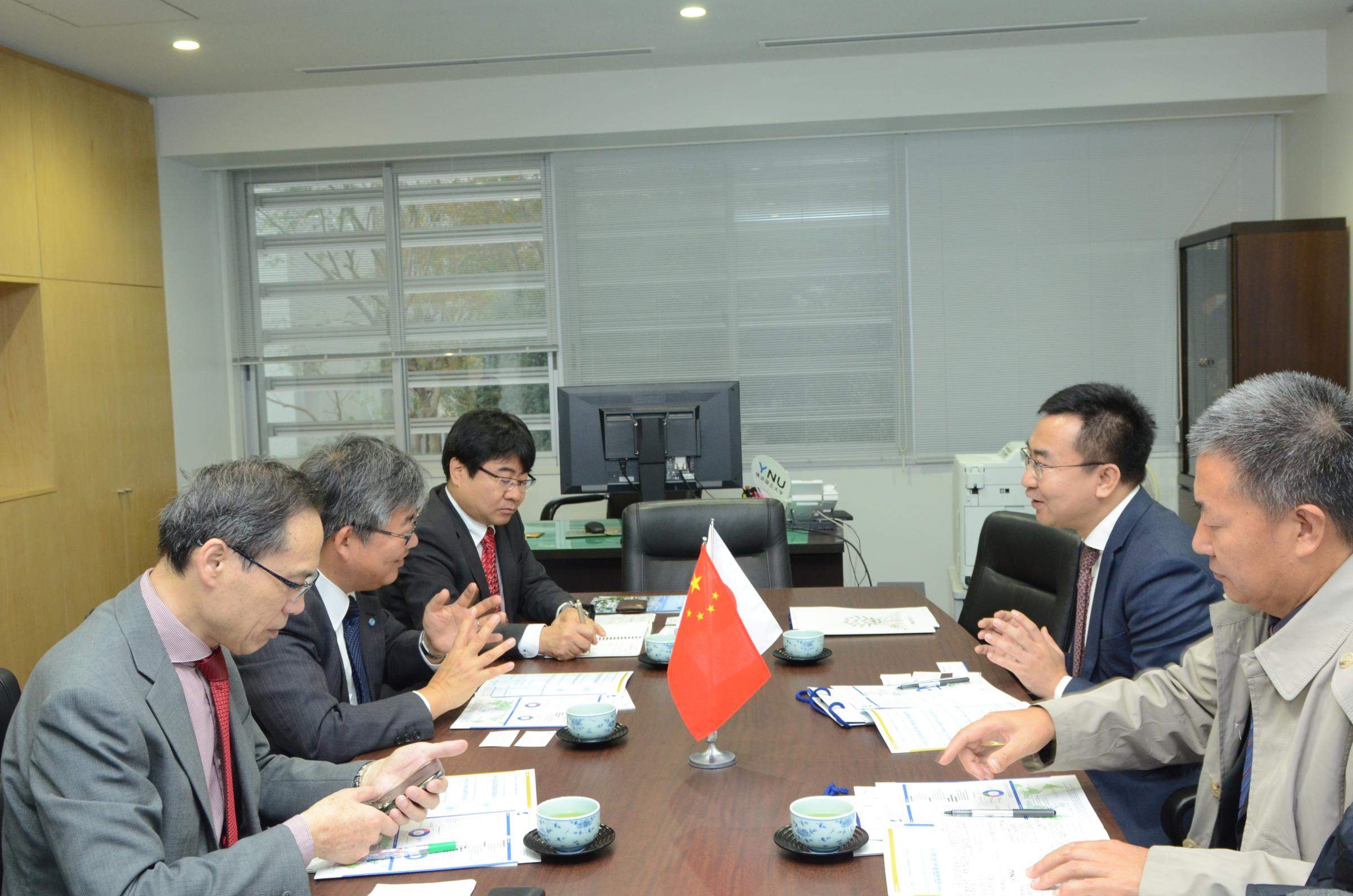 On November 26 Tuesday, 2019, Assoc. Prof. QU Bo, Director of Institute of International Relations and Prof. ZHOU Yongsheng of Institute of International Relations from China Foreign Affairs University paid a courtesy visit to the University. The visitors were welcomed by Vice President NAKAMURA Fumihiko, Prof. TANABU Motonari, International Strategy Section of International Strategy Organization and Prof. XU Haoyuan, International Strategy Organization and Special Advisor to the President.
In the meeting, VP NAKAMURA stated the welcome remarks and explained the educational goal that YNU puts an effort to educate students with international mind set by giving opportunities to go abroad at least once while in the university, and in parallel by increasing the international students via short-term programs and degree seeking and promoting international exchange within the campus.
In response, the director QU gave a greeting and introduced the university. China Foreign Affairs University has 2,400 student population which is relatively small in China and offers subjects such as Diplomacy and Foreign Affairs Management, Foreign Languages and International Studies (Japanese, French and Spanish), International Economics, International Law, and English and International Studies, which has lots of commonality with YNU. Also two campuses are introduced; one is current downtown campus and the other is new campus which is approximately 40km away from Beijing central.
Regarding future activities, Prof. KABASHIMA Hiromi of Graduate School of International Social Sciences visited China Foreign Affairs University a month before this visit and discussed about the possibilities of student exchange, joint workshop in the field of international law and international relations and a possibility of accepting YNU students in the PhD course there. These contents were shared with the attendees of the meeting and confirmed that the detail will be discussed continuously.
In the end of the meeting, Prof. ZHOU, a specialist of China-Japan relations, asked opinions about current diplomatic relations such as China-Japan, Japan-US, Japan-Korea. YNU faculties giving personal opinions to those topics, it became an active discussions.
Through this visit, further cooperation between China Foreign Affairs University and YNU is expected.