[Report] Virtual field research through collaboration with YNU European Branch Office <Examples of branch utilization in research activities>
[Report] Virtual field research through collaboration with YNU European Branch Office <Examples of branch utilization in research activities>
From October 2020 to January 2021, Ms. Yako Ohno of the Graduate School of Education, Education Design Course of YNU and Professor Masafumi Ogawa virtually visited eight lessons of Music Education, Faculty of Education, Oulu University, Finland.
In Ms. Ohno's research, she focused on Finland's "music teacher training", which has not been reported as much so far, and her research aimed to clarify the actual situation of Finnish music teacher training through a detailed analysis of the curriculum. To fulfill the research purposes, on-site research was indispensable. So, from the time of considering the research plan, Ms. Ohno and Professor Ogawa consulted with Professor Yamamoto (Faculty of Education, YNU), Assistant Professor Erkki Lassila (Kobe University), Assistant Professor Kiyoko Uematsu (International Strategy Organization, YNU) as well as YNU European Branch Officers Ms. Shiho Kaneko and Mr. Andreas Rogler. This collaboration helped to establish suitable faculty contact from the Music Department of the University of Oulu.
Due to the spread of the COVID-19, any conduct of field study was restricted. Meanwhile, with the understanding of the faculty members of the University of Oulu, this virtual field research (class visit and interviews) was made possible. Although the data was collected "online", which is different from the conventional field research, the researchers were able to obtain various insights through interviews and lively discussions with the University of Oulu faculty members.
We would like to express our sincere gratitude to Prof. Katja Sutela, Prof.Nina Jokela, Prof. Pietu Halonen, and Prof. Jussi Jakko of the Department of Music Education, the University of Oulu for their cooperation.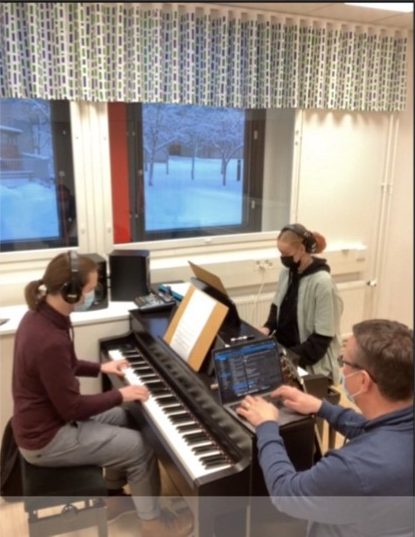 On February 18th at 15:15 (Japan time), Professor Ogawa will be giving a special lecture at the University of Oulu (online). (If you are interested, please contact Professor Ogawa <ogawa-masafumi-xn@ynu.ac.jp> for the zoom information directly.)

The YNU European Branch Office and the International Strategy Promotion Organization will continue to aim to contribute to the improvement of the research capabilities of Yokohama National University through such collaboration, and to revitalize various initiatives utilizing overseas branches.