YNU Students enjoyed a cruise trip of Yokohama Port on May 27, 2011.
YNU Students enjoyed a cruise trip of Yokohama Port on May 27, 2011.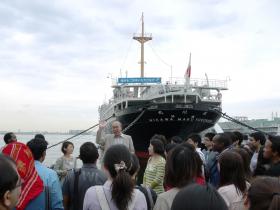 That morning, students and staff were worried about the weather; it was going to rain all the day, according to the weather forecast. But to their happy surprise, it stopped raining when they met at Yamashita Park!
Participants were nearly 100 YNU students, both Japanese and international, including those from foreign countries studying at Infrastructure Management Program. Their ship "Marine Shuttle" passed under the Yokohama Bay Bridge, a popular location for filming movies and TV series, and sailed to Honmoku Pier and Daikoku Pier. They all enjoyed one hour cruise listening to interesting explanation in English and taking in the sea breeze on the deck.
After the cruse, the participants walked to Osanbashi Yokohama International Passenger Terminal where they had lunch with newly met friends overlooking Yokohama Port. After lunch they went up to a rooftop park of Osanbashi and enjoyed a panoramic view – from Yamashita Park along to the sophisticated Minato Mirai 21 area.
This trip provided them a deeper appreciation of the Port City of Yokohama and also a good opportunity to interact with one another. We would like to express our gratitude to Port and Harbor Bureau, City of Yokohama who kindly sponsored this cruise.
(IMP Office of International Graduate School of Social Sciences, and International Division)
Please have a look at pictures posted in the Office of International Relations website.