YNU Alumni Meeting was held in Ulaanbaatar, Mongolia.
YNU Alumni Meeting was held in Ulaanbaatar, Mongolia.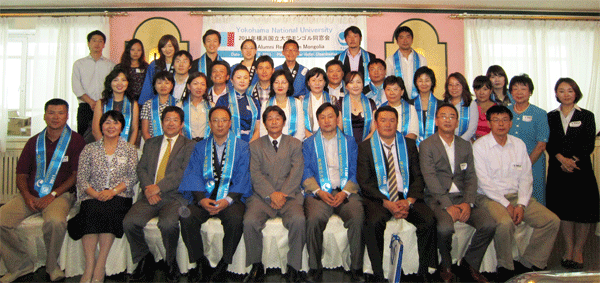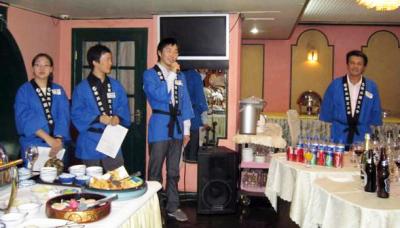 On August 9th, 2011, a meeting of YNU alumni was held in Ulaanbaatar, Mongolia. It was the first reunion party in the city and thirty graduates from YNU faculties and graduate schools got together. Mr. Matsuoka, Executive Director, Prof. Araki, Special Advisor to the President for International Affair, Prof. Morita, Associate Prof. Guo, Associate Prof. Kiyota, Lecturer Andrade and Ms. Moriyama from the Faculty of Business Administration, as well as Ms.Koizumi (IMP Office), attended the meeting.
In rapidly developing Mongolia, many YNU graduates are playing important roles both in the public and private sectors. At the party, we also had guests from the Japan International Cooperation Agency (JICA) in Ulaanbaatar on this occasion. Prior to the reunion, the YNU delegates had the honor of exchanging views with Ambassador Kidokoro of the Embassy of Japan in Mongolia. Later, Executive Director Matsuoka visited the Mongolian National University (one of the YNU partner universities) and the Mongolian University of Science and Technology with a view toward expanding further academic exchanges and attracting more Mongolian students to YNU.
At the reunion party, the participants enjoyed pleasant conversation among each other in a friendly atmosphere, recollecting their university days, talking about their current jobs, etc. Mr. Enkh-Angalanbaatar Bator was unanimously elected as President of the YNU Alumni Association in Mongolia, and Mr. Ulziikhutag Odgerel as Vice President. Mr. Zurgaanjin Enkhbold, who was so instrumental in organizing the reunion this time around, was appointed as Secretary General of the Association. Moreover, Ms. Bold Ulzibayar, the very first Mongolian student who graduated from the Faculty of Business Administration in 1996, was elected as the Honorary President of the Association. Lastly, "Morin Khuur (horse-head fiddle)", a traditional Mongolian musical instrument was presented from the Association to YNU. It was played by a professional musician, and the beautiful tune allured everyone there. We hope that the meeting was a good starting point for the Association to expand its network amongst the YNU graduates in Mongolia.