Orientation held for YNU Chinese Government Graduate Student Overseas Study Program 2011
Orientation held for YNU Chinese Government Graduate Student Overseas Study Program 2011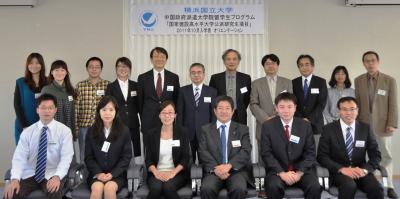 On October 6th, an orientation was held for new students enrolling at YNU Chinese Government Graduate Student Overseas Study Program.
This October, the program welcomed 5 new students from Shanghai Jiao Tong University, Beijing Normal University and East China Normal University with which YNU has international exchange agreements.
The orientation started with a warm welcome from Prof. Ichiro Araki, followed by the self-introduction speeches of the new students. Some spoke in Japanese which they have been studying very hard. Their academic advisors, related professors and 4 senior students of the same program gave them warm and encouraging messages. Lastly, Prof. Kadokura gave guidance on the Japanese courses offered at International Student Center.
15 students are currently enrolled in the International Graduate School of Social Sciences, the Graduate School of Engineering and the Graduate School of Environment and Information Sciences under YNU Chinese Government Graduate Student Overseas Study Program. Coming back from summer holidays, students looked refreshed and very motivated for the new semester. (Office of International Relations)