Big Alumni Meeting Held in Busan, Korea
Big Alumni Meeting Held in Busan, Korea
 Yokohama National University's (YNU) Alumni Meeting was held in Busan, Korea on October 1, 2011. Over 50 graduates and current students from Korea took part in the event. From YNU, President Kunio Suzuki and ten other faculty and administrative members joined to celebrate the big event.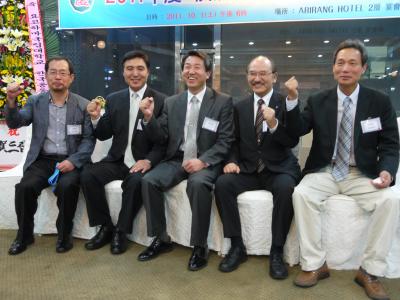 President of YNU Korean Alumni Association, Lee Gilwon, professor of Dong-A University, who studied in YNU from 1983 to 1987, made an opening speech to express his appreciation to many participants for the alumni/reunion meeting.
"I hope Korean alumni could strengthen the network over the generations and contribute the development of YNU," said Professor Lee.
YNU President Suzuki voiced, "I am very glad to be invited in this memorable Korean alumni meeting tonight. On behalf of YNU, I would like to express my appreciation for Korean alumni." He also expressed his deepest gratitude for the sympathy shown toward devastating Earth Quake on 11th March through the Korean Alumni Association.
Professor Hisa Miyatake, YNU International Relations Coordinator, explained briefly the current YNU's activities, adding, "We will have a Home Coming Day event on October 29. Anyone here is cordially invited to come home to YNU."
In Korea various alumni meetings have been organized in various cities. However, this is the first alumni meeting that YNU president joined.
YNU's alumni meetings have been held frequently in recent years. Prior to the Korean alumni meeting this time, such meetings were held in Mongolia and Indonesia. In 2010, reunion gatherings took place in Kazakhstan, Uzbekistan, Brazil, China (Shanghai and Dalian), Vietnam, Thailand, Laos, Cambodia and Taiwan.
Yoko Ito, YNU Head of International Division said, "The assistance from alumni members is vital for the further development of YNU. I do expect that YNU alumni associations in every country would push up more YNU's brand in the world."