"YNU Day" at PKNU in Korea ~Ambassador Muto Makes Speech on Global Human Resources~
"YNU Day" at PKNU in Korea ~Ambassador Muto Makes Speech on Global Human Resources~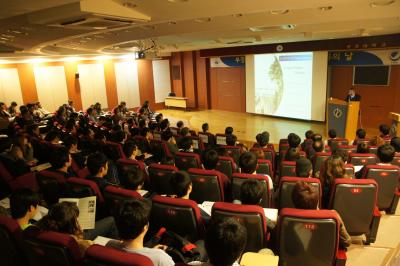 On September 30, 2011, Yokohama National University (YNU) held "the YNU Day in Korea" at Pukyong National University (PKNU), a partner university in Busan. The event was attended by nine delegates from YNU, led by President Kunio Suzuki. During the half-day event, H.E.Mr.Masatoshi Muto, Ambassador of Japan to the Republic of Korea, who graduated from the Faculty of Economics of YNU in 1972, delivered a speech on Global Human Resources.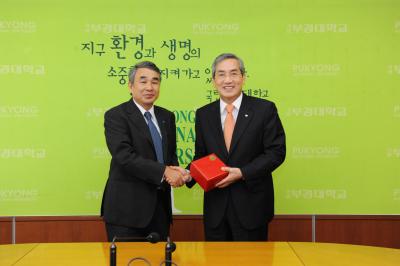 At the opening of the YNU Day, a courtesy visit to the president of Pukyong National University was made by President Suzuki and other YNU delegates. Dr. Maeng Eon PARK, President of PKNU, addressed, "In 1995, YNU and PKNU started their partnership principally between the faculties of engineering and the linkage has been enhanced in many fields and intensified. I would like to take this opportunity to initiate a solid exchange and collaboration for both universities and to cooperate together for further development of both Korea and Japan as the tie between the two has been strengthened today."
 YNU President Suzuki said in response, "Busan and Yokohama have a lot in common as both of them are port cities and the second largest in population in each country, so we feel a sense of closeness. As many as 868 international students are enrolled in YNU and 164 of them are Koreans (as of May 1st, 2011). Academic and research exchange between PKNU and YNU has been steady. We would like to intensify further our cooperation in education and research fields."
 In the afternoon, at the library hall, Ambassador Muto delivered a lecture entitled "Global Human Resources and University Education" in the Korean language. Some 160 students, professors and administrative people joined the event. Some had to stand in the packed hall.
 Giving information about the changing world, Ambassador Muto talked about what the relationship between Korea and Japan was like today and said, "Japan-Korea cooperation become a key part in Asia. There are issues such as Dokdo, but we have no time to fight against each other. Japan's strengths such as information power and planning skills are to be in collaboration with Korea's strengths such as risk taking and aggressive management. Then we will be able to approach the further development in Asia, our common goal." On top of that, he voiced, "Those who have growth potential without knowledge-centric nature and those who can think strategically from a broad viewpoint are desired as global human resources."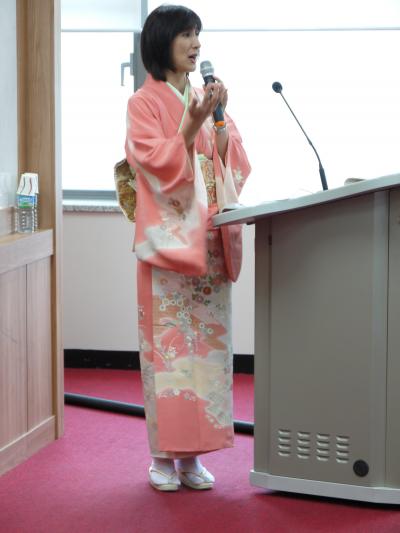 YNU's five professors held the following lectures for undergraduates ; "Thermal Comfort of Clothing" given by Prof. Satsumoto, Faculty of Education and Human Sciences, "The Asia era and attraction(Intensiveness) of Japan" by Prof. Cho, Faculty of Business Administration, "Management of Innovation: Issues on Organizational Change" by Prof. Shusa, Research Institute of Environment and Information Sciences, "Plasma Universe" by Prof. Ishihara, Faculty of Engineering Science, and "News Agency Never Sleeps" by Prof. Miyatake, International Student Center.
 Lastly, the special banquet was hosted by YNU with 50 people joining. YNU President Suzuki and PKNU President Maeng Eon PARK made the opening speeches and then all guests including faculty members from both universities enjoyed pleasant conversation among each other.
 Ms. Yoko Ito, Head of International Divisions of YNU said, "The event was full of challenges such as inviting Ambassador of Japan to the Republic of Korea from Seoul. We could not achieve our goal without the close cooperation of PKNU. I thank each and every one of you for your many efforts spent to make arrangements for today."