The Mizuki (Moon Viewing) Party Held for International Researchers and Students
The Mizuki (Moon Viewing) Party Held for International Researchers and Students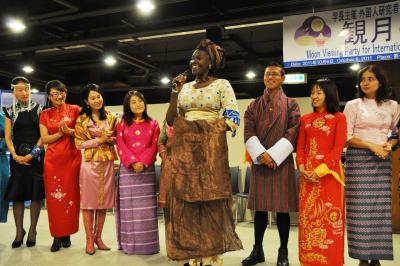 The Mizuki (Moon Viewing) Party was held on October 6, 2011, and over 400 faculties, students and staff participated. Hosted by the President, this event is held annually for international researchers and students to develop closer ties with Japanese faculties, students and staff.
The party started with a hearty welcome from President Kunio Suzuki, followed by a toast from Executive Director (International Affairs) Kazuhisa Matsuoka. Some international students wore traditional costumes and caught lots of attention.
For entertainment, "Minken"(Japanese folk club) played the Wadaiko (Japanese drums), and the International Student Center Prof. Shohei Yoshida presented Iaido (sword-based martial art) demonstration. Also, two international students, Mr. Zhang Xiaoming and Ms. Guliaixianmu Abulaiti, played the erhu (Chinese two-stringed fiddle) and performed Uighur dance respectively.
The party ended with a closing speech by Prof. Ichiro Araki (Special Advisor to the President for International Affairs). We hope that all the participants enjoyed a variety of foods, meeting friends and chatting with new people.
Please have a look at pictures posted on the Office of International Relations website.