Ethiopian Ambassador Markos Tekle Rike delivered a special lecture at YNU.
Ethiopian Ambassador Markos Tekle Rike delivered a special lecture at YNU.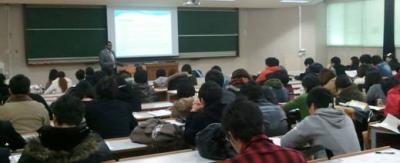 On February 1st(Wed.), 2012, H. E. Mr. Markos Tekle Rike Ambassador Extraordinary and Plenipotentiary of the Federal Democratic Republic of Ethiopia delivered a 90 minute special lecture entitled "Ethiopia: the Nation on Economic Development and Transformation " as a special lecturer for "Developing Economies" by Professor Keiich Yamazaki of the College of Economics, YNU, and lively exchanged the views with YNU students. The lecture was made up of four parts. Part I was a general introduction of the basic facts and history of Ethiopia, which has been an independent country for thousands of years, without an experience of colonization. Part II discussed basic economic structure and Part III examined regional economic integration in Eastern and Southern Africa such as COMESA, emphasizing the needs for infrastructure development on a continental scale. Part IV studied the development strategy being followed by the country. Ambassador argued on the importance of the East Asian model as well as 'developmental state' model, although the model should be modified and adapted to the Africa's recent economic-political situation. With some 'PR talk' about Ethiopia, the lecture as a whole was of highly academic nature, fulfilling the role as the last concluding session of this one year course; Ambassador Rike was a political science professor before assuming the current post.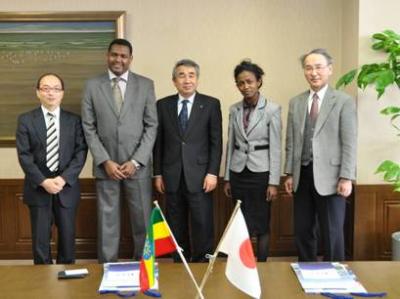 In the afternoon, the Ambassador and other delegates of the embassy made a courtesy visit to President Kunio Suzuki. Executive Director Yasuo Kokubun, and Vice president Hitoshi Yamada. Professor K. Yamazaki and Ms. Yoko Ito, Head of International Division, also joined the meeting. They shared their ideas and thoughts regarding further enhancement of academic and research exchanges between YNU and the universities in Ethiopia. Ambassador noted that the number of the universities in Ethiopia is relatively limited compared to the total population of 86 million, expressing his wishes to see an academic partnership between a university in Ethiopia and YNU emerge in the near future.