President TRAN VAN NAM, University of Danang visited YNU
President TRAN VAN NAM, University of Danang visited YNU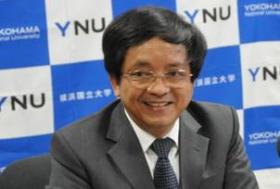 On May 21st, 2012, the University of Danang(Vietnam) President Dr. TRAN VAN NAM made a courtesy visit to President Kunio Suzuki. The University of Danang has strong ties with YNU Graduate School of Urban Innovation, Engineering, and Environment and Information Sciences.
Vice President Hitoshi Yamada and Executive Director Noriyuki Takeshita also joined the meeting. They shared ideas and views on the further enhancement of academic and research exchanges between the two universities.
During his visit at YNU, President NAM also visited the Center for Risk Management and Safety Sciences and laboratories of Civil Engineering and discussed about collaborative research projects and met Vietnamese students studying at YNU.