Three Graduate Schools of YNU Sciences and Engineering concluded an Agreement on Double Degree Program with Graduate Schools of Shanghai Jiao Tong University, China
Three Graduate Schools of YNU Sciences and Engineering concluded an Agreement on Double Degree Program with Graduate Schools of Shanghai Jiao Tong University, China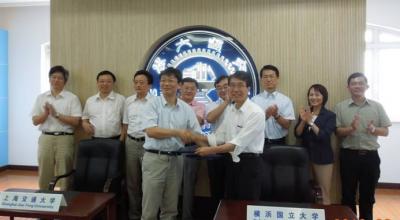 On Friday, August 3rd,2012, YNU Vice President Hitoshi YAMADA, Prof. Shin MORISHITA (Dean, Graduate School of Environment and Information Sciences), Prof. Hiroshi KATSUJI (Graduate School of Urban Innovation), Prof. Haoyuan XU (Information Technology Service Center) and Ms.Yoko ITO(Head, International Division) paid a visit to Shanghai Jiao Tong University (SJTU).
The delegate made the visit to conclude an agreement on double degree program between three Graduate Schools of YNU Sciences and Engineering and the Graduate Schools of SJTU. YNU alumni and SJTU Vice President Gang CHEN, Prof. Ning MA and Prof. Xuefeng WANG attended the signing ceremony as well as Prof. Zhaohui DU, Prof. Hao HU, Prof. Jianmin YANG and Prof. Dai ZHOU from the School of Naval Architecture Ocean and Civil Engineering and Prof. Weimin ZHANG and Prof. Yuping CAI from STJU International center. Prof. DU, Deputy Dean of SJTU School of Naval Architecture Ocean and Civil Engineering and Prof.MORISHITA , Dean of YNU Graduate School of Environment and Information Sciences signed the memorandum of understanding on behalf of each institute.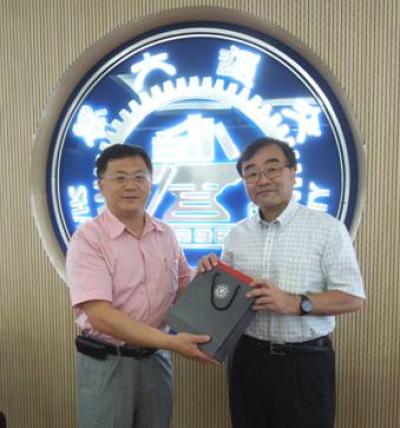 Availing of this double degree program, a graduate student from SJTU will be joining YNU Graduate School of Urban Innovation in this October. We hope that YNU Students will also make use of this program in the near future and successfully receive degrees both from YNU and SJTU.
Since the conclusion of the academic exchange agreement in 1982, YNU and SJTU have been expanding the international exchange programs in educational and research activities of various kinds. Signing this agreement on double degree will take the relationship between the two universities to the new stage. We expect that many students will seek and acquire degrees from both universities and become global human resources to play important roles in the world.
On the next day, Saturday, August 4th, Associate Professor Yoshiki NISHI(YNU Graduate School of Engineering) and ten graduate students from YNU landed in China to participate in a Short Visit Program at SJTU for approximately two weeks. The welcome reception was held in the evening and students from YNU and SJTU introduced themselves and soon opened up to one another. Vice President YAMADA gave them words of encouragement to pay attention to their health and make the program a rewarding, successful and pleasant experience.