YNU participated in Japan Education Fair in Korea and visited Sejong University
YNU participated in Japan Education Fair in Korea and visited Sejong University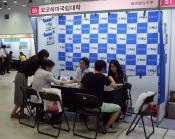 Japan Education Fair was held in Busan on September 8th and in Seoul on September 9th, organized by Japan Student Services Organization (JASSO). The College of Education and Human Sciences Professor Fumikazu Osuka and University Library Senior Staff Ms. Ikuko Kubo attended the Fair and ran a booth.
In Busan, 67 universities set up the booths, which attracted 1,750 visitors despite heavy rain. In Seoul, 79 universities set up the booths, and the numbers of visitors reached 1,450. YNU received a constant visit from the students and got asked about the subjects of the examination, tuition fees, scholarships, dormitories, and so on. Almost all the visitors were high school students, but translation was often not needed as they spoke Japanese very smoothly and comfortably. Some of the appeals of YNU got positive responses from the visitors, such as the fact that 8 percent of its students are international students, of which the Korean makes the second largest group.
On September 10th, Professor Osuka and Ms. Kubo visited the College of Liberal Arts of Sejong University with which YNU College of Education and Human Sciences has concluded an agreement. Professor Lee Eung Soo of the Japanese Language and Literature, College of Liberal Arts, Sejong University, guided them through the campus, and they had lunch with 5 Korean students who are going to study at YNU from this October.