The Signing Ceremony for an Academic Exchange between UNA and YNU held on September 12, 2012
The Signing Ceremony for an Academic Exchange between UNA and YNU held on September 12, 2012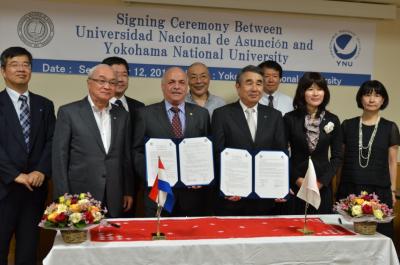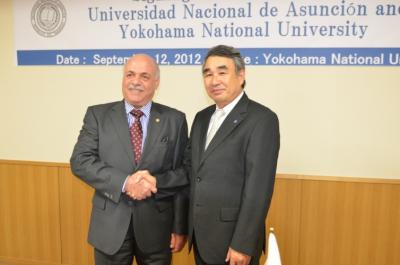 National University of Asuncion Paraguay (UNA) Rector Pedro Gerardo Gonzalez paid a courtesy visit to YNU President Kunio Suzuki to conclude an academic exchange agreement between the universities. the Republic of Paraguay Ambassador to Japan H.E Mr. Naoyuki Toyotoshi also attended the signing ceremony and made a speech.
"I am very pleased to announce that Yokohama National University is the first Japanese university that has concluded an academic exchange agreement with a Paraguayan university" he said.
From YNU, Prof. Youichi Umemoto (Dean of Graduate Schools of Urban innovation), Prof. Noriko Shirouzu, Professor Fumihiko Nakamura, Professor Kiyoto Kurokawa, Professor Yoko Fujikake, Prof. Ichiro Araki (Special Advisor to the President for International Affair), Professor Masahisa Suzuki (International Coordinator), and Ms. Yoko Ito (Head of the International Divisions) participated in the ceremony.
Since 1993, Prof. Fujikake, the president of the Mitai (Children for rural villages in Paraguay) Foundation, has been nurturing a relationship with UNA by advocating and struggling with the development and educational outreach in rural areas in the Republic of Paraguay together. YNU students also have been involved in supporting activities in farming villages in the country such as helping school constructions. We hope that student and faculty exchange and further collaboration between the two universities will be promoted by making the best of this academic exchange agreement.
After the ceremony, Rector Gonzales delivered a mini lecture on "Higher Education in the Republic of Paraguay". The students from the Graduate School of Urban Innovation attended and eagerly listened to the lecture.
For more information about Prof. Fujikake, please visit the following website;➜http://yoquita.com/