2013 YNU International Symposium "Revising Okakura Kakuzo's Achievements: Lessons for the 21st Century"
2013 YNU International Symposium "Revising Okakura Kakuzo's Achievements: Lessons for the 21st Century"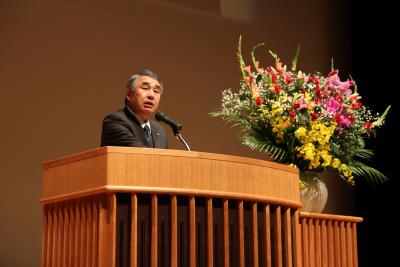 On January 25, 2013, YNU held an international symposium "Revisiting Okakura Kakuzo's Achievements: Lessons for the 21st Century" at Hamagin Hall Viamare, Yokohama. The five-hour long symposium, which consists of two parts, attracted around two hundred students and local citizens.
It started with the speech of President Kunio Suzuki who mentioned about the damage caused by Great East Japan Earthquake and how quickly Ibaraki University restored the Rokkakudo, a hexagonal villa which Okakura himself designed in Izura, Ibaraki Prefecture, and donated some pieces of its window glasses and roof tiles found under the sea to YNU which is located in Yokohama, the birth place of Okakura. President Suzuki also remarked that he would like to make the symposium to be an opportunity to learn from Okakura with his global spirit and contributions, and think together with the audience what "global human resources" truly are. After President Suzuki, Ibaraki University President Yukio Ikeda gave a speech, explaining the difficulties the university faced in the process of rebuilding the Rokkakudo.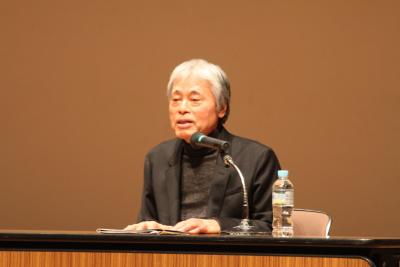 The first part of the program started by a keynote lecture from YNU former professor Nagahiro Kinoshita. He explained to the audience that Okakura was not only committed to the preservation of Japanese art and foundation of the Japan Art Institute, but also very active in China, India, and the United States, and introduced Japan to the West through his books written in English. Professor Kinoshita also made the point that although Okakura is often regarded to be Pan-Asianist and nationalist, his attitude was in fact that of the opposite.
It followed by a panel discussion moderated by Professor Hisashi Muroi. Four panelists, Ibaraki University Professor Shinya Koizumi, Meiji Gakuin University Professor Yuji Yamashita, and Sophia University Associate Professor Noriko Murai as well as Professor Kinoshita made presentations and discussed under the theme of "revising and re-evaluating Kakuzo Okakura".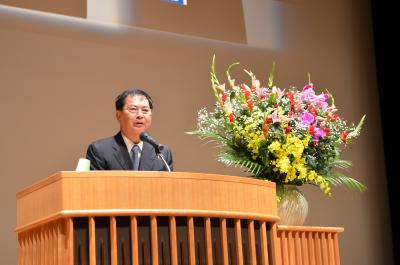 The second part of the program was initiated by the second keynote lecture of Dr. Thanong Bidaya, the former Finance Minister of Thailand. Under the title of "Okakura Tenshin's Vision and Reality of the Changing World". Dr Bidaya gave a lecture on the aesthetic and philosophical value of Okakura and the East, with his own experience as an undergraduate student at YNU and the finance minister at the time of Asian Crisis of 1997. Furthermore, he shared his view that in order to develop collective intelligence in Asia we need to maintain "warm heart" and make "heart to heart" relationships for its peace and harmony, and that re-evaluating Okakura's accomplishment from the perspective of modern world is of great significance.
For the second panel discussion, four panelists, Ibaraki University President Yukio Ikeda, Ministry of Foreign Affairs deputy press secretary Naoko Saiki, Tokyu Hotels former Representative Director Ichigo Umehara, and Kanagawa Shimbun former president Nobuyuki Chiba, moderated by YNU Professor Ichiro Araki, delivered presentations and panel discussion under the theme of "how to strengthen the export of information from Japan".
Finally, YNU Executive Director Kazuhisa Matsuoka closed the symposium by remarking that we still have a lot to learn from Okakura, especially his ability and eagerness to convey information to the world and how it has contributed to form foreigners' image of Japan.