University of Oulu Visited YNU
University of Oulu Visited YNU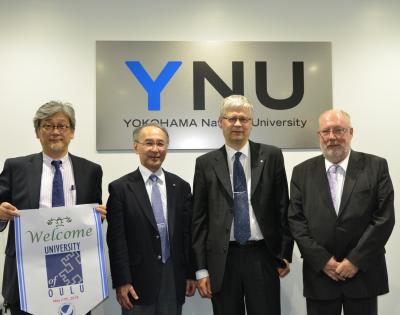 On May 27th, 2013, Vice-Rector Olli Silven and Prof. Pentti Leppanen from University of Oulu, Finland, made a courtesy visit to YNU.
YNU has achieved many good academic results with the University of Oulu in joint research programs based on the academic exchange agreement concluded in 2009, mainly in the discipline of Graduate School of Engineering. They visited Japan for Medical ICT Center visit and attendance to CWC Japan Workshop on the following day together with other some economic authorities from the City of Oulu and also other university members, however, the two people took the opportunity to visit YNU previously because in fact they came to YNU with a researcher exchanging program in FY2011.
The two Oulu members visited Vice President KOKUBUN Yasuo at Executive Director's Office, also welcomed by Prof. KOHNO Ryuji, Faculty of Engineering Division of Intelligent Systems Engineering, and Ms. ITO Yoko, Head of International Office. With a good atmosphere of friendship, people had a talk with further development of joint researches, students, faculty & staff members exchanging, and other challenges for the fruitful relationship of both universities.