YNU President SUZUKI Kunio and His Party Visited Universidade Federal de Pernambuco (Brazil)
YNU President SUZUKI Kunio and His Party Visited Universidade Federal de Pernambuco (Brazil)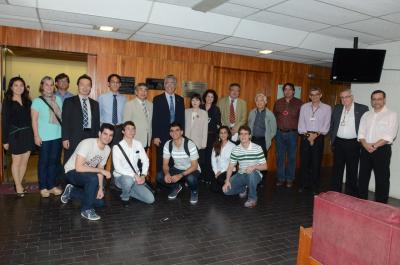 From 21(Tue) to 23(Thu) May, 2013, President SUZUKI Kunio, Associate Professor SUZUKI Takayuki (Graduate School of Urban Innovation), and Associate Professor HIRAKAWA Yoshiaki (Graduate School of Engineering), visited Universidade Federal de Pernambuco (UFPE), Brazil.
The president and his party had a field tour and discussed the details of the joint project for environmental sustainability and restoration which is in talk by UFPE and YNU at present. They also gave a lecture on Tsunami, coastal erosion, and shipping to UFPE students. After that, students who attend asked questions on study at YNU, for which Prof. TACHIBANA, YNU Emeritus Doctor, (Universidade de São Paulo, YNU Liaison Office) answered them and then recommended to do so.
The delegate party made a courtesy visit to UFPE President Dourado and also introduction to each university to find the consistency of the four fundamental principles of both; Be Active (practical workability), Be Innovative (leading spirit), Be Open (open mind), and Be Global (borderless communication and cooperation) were completely the same ones. It was quite amazing to the people there; on the other hand, they confirmed they were the comrades to have the same spirits and principles.