YNU Signed on Triangle Academic Exchange Agreement with Peking University and Shihezi University
YNU Signed on Triangle Academic Exchange Agreement with Peking University and Shihezi University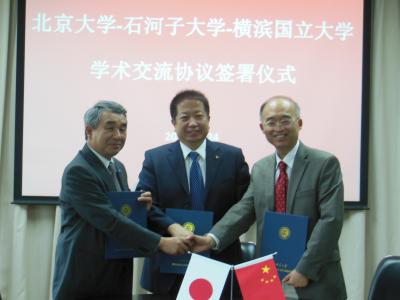 In the morning of Monday, June 24, 2013, a signing ceremony of Triangle Academic Exchange Agreement among Peking University, Shihezi University (Xinjiang Uyghur Autonomous Region) and YNU was held at Peking University.
Peking University Executive Vice President Wu Zhipan, Shihezi University Vice President Chen Chuangfu, and YNU President Kunio Suzuki, signed on the Agreement. The executives strongly shook hands with on another, confirming that they would cooperatively promote and develop academic exchange between the three universities.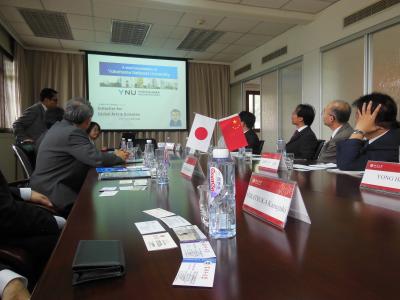 Prior to signing, faculty and administrative staff from the three universities, including Vice President (International Affairs and Evaluation) Hitoshi Yamada and Faculty of Environment and Information Sciences Dean Professor Shin Morishita, had a round-table meeting. The representatives gave overview and current status of each university and discussed on the further promotion of mutual exchange.
In the afternoon, Faculty of Environment and Information Sciences Professor Morishita, Professor Kazuyuki Hiratsuka, and Associate Professor Mieko Kumasaki gave "YNU Special Lecture on Environment and Information Sciences." Faculty members and students of Peking University listened to the lecture eagerly, which was followed by an active Q&A session with the YNU faculty members.