University of Malaya Delegation Visited YNU

University of Malaya Delegation Visited YNU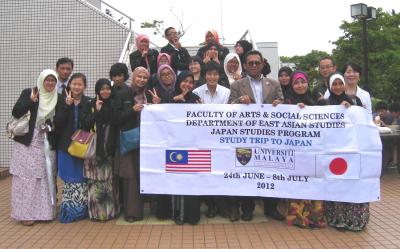 Dr. Zakaria Mustafa, Head of the Department of East Asian Studies, Faculty of Arts and Human Sciences, University of Malaya (UM) and nineteen students from his Department visited YNU on July 2 (Monday).
University of Malaya, the oldest and largest university in Malaysia and YNU signed an MOU in 2011 and two UM students have already studied at YNU as short-term exchange students. In the academic year 2012, it is planned that one YNU student will study at UM.
The delegation was welcomed by two YNU academics, Lecturer.Hisami Andrade of College of Business Administration and Prof.Shohei Yoshida of International Student Centre and administrative staff members, and attended a tea party held at the International Exchange Lounge of College of Economics, which was also attended by YNU students.
Later, they attended a halal luncheon held at "Porty", where Dr.
Zakaria exchanged gifts with Head of International Student Centre,
Prof. Masayoshi Kobayashi.