Engineering Grad Receives "Light Metal Paper Prize"
Engineering Grad Receives "Light Metal Paper Prize"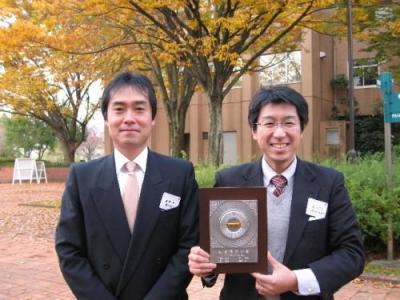 Third-year Doctoral student Tetsuya Masuda of the Graduate School of Engineering and Associate Professor Shoichi Hirosawa of the Faculty of Engineering were awarded a "Light Metal Paper Prize" at The 119th Conference of Japan Institute of Light Metals held at Nagaoka University of Technology, November 13, 2010.
The paper that won the award, "Combined Effect of Pre-Straining and Pre-Aging on Bake-Hardening Behavior of an Al-0.6mass%Mg-1.0mass%Si Alloy" (Materials Transactions, Vol. 51(2010) pp. 325-332), was selected as one of three Best Papers among 66 articles that appeared in the academic journals "Light Metal" and "Material Transactions" between July, 2009 and June 2010.
Al-Mg-Si alloy is used in automotive body panels and in order to meet the need for improved material properties, a new manufacturing process that combines pre-straining and pre-aging was developed, which resulted in superior manufacturing results. Additionally, an important knowledge was obtained regarding metallographic changes during pre-aging, which led to academic recognition as well.