Responses to the Great East Japan Earthquake
Responses to the Great East Japan Earthquake
⇒ 【日本語版】
We post information of the planed blackouts and various multilingual websites relevant to the Great East Japan Earthquake Earthquake on this page. We sincerely hope that it will be of any help for our international students and researchers.

2011年3月11日に発生した 東日本大震災の影響による「計画停電」および「多言語情報サイト情報」などを、本学の英文サイトに掲載しています。留学生や外国人研究者等は、ぜひご活用ください。
FAQ regarding the upcoming semester
Present Situation of YNU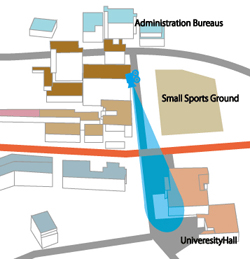 We have installed a video camera for people outside YNU to know the present situation of our campus. YNU has been almost unscathed by the earthquake, and its educational and research environment remains intact.
You can view the live streaming from the URL below.
Please note that the streaming images are not recorded and the angle of
view is set so as to protect the privacy of individuals on the scene.
Useful Links
Information from YNU
2011.4.20

2011.4.19

2011.4.19

2011.4.5

2011.4.4

2011.4.4

2011.4.1

2011.4.1

2011.3.31

2011.3.24

2011.3.24

2011.3.24

2011.3.18

2011.3.18

2011.3.18

2011.3.18

2011.3.18

2011.3.17

2011.3.16

2011.3.15

2011.3.15

2011.3.15

2011.3.14

2011.3.14