YNU Europe Alumni Reunion in Helsinki was held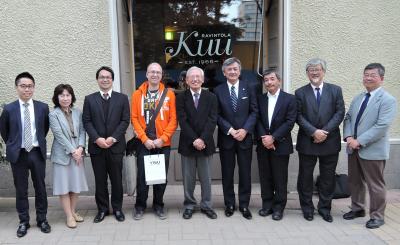 On August 25th, 2016 (Thurs), YNU Europe Alumni Meeting in Helsinki, Finland was held. This is the first Alumni Meeting in North Europe.
Former Chairman of Alumni Association FUKYUKAI Mr.Ichigo Umehara and Mr.Halinen Turo who has studied in YNU attended this meeting.
From YNU, President Yuichi Hasebe, Vice-President and Executive Director Fumihiko Nakamura, Dean of College of Economics Yasushi Nakamura, Director of Center for Future Medical Social Infrastructure Based on Information Communications Technology, Professor of Faculty of Engineering Ryuji Kohno, Associate Professor of Faculty of International Social Sciences Morinao Iju, International Office Manager Tomoko Takeuchi and Personnel and Labor Affairs Division Staff Yusuke Nakakane attended.
Firstly, President Hasebe gave the opening address and then participants introduced themselves to each other.A broad exchange of views took place in a friendly atmosphere on issues related to the prospects of international exchange among Finland, other European countries and YNU.
Most of the participants were scheduled to attend the Opening Ceremony of YNU Branch Office in University of Oulu in Finland next day, President Hasebe mentioned that this Branch Office would play an important role as a gateway for international exchange in Europe. In addition, the possibilities are expected not only in the academic fields but also in regional exchanges between Kanagawa Prefecture and Oulu city.
This meeting which was held in a northern country far away from Yokohama was very beneficial and further exchange is expected between Europe and YNU.