VISIT BY TEXAS SOUTHERN UNIVERSITY TO YNU
On Thursday, May 9 a delegation of faculty members and Executive MBA graduate students from Jesse H. Jones School of Business at Texas Southern University (TSU) paid a visit to the Graduate School of International Social Sciences at YNU. The cohort was led by Assistant Dean Naveed Haider, the director of the Executive MBA program at TSU.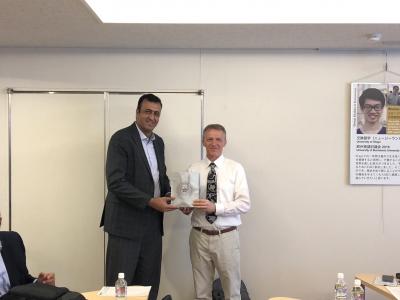 The cohort began their visit with a lecture entitled 'An Introduction to Yokohama and Yokohama National University' given by Professor Alexander McAulay in the International Lounge in the Faculty of Economics. The TSU group heard about Yokohama's history as Japan's 'gateway to the West', and YNU's efforts in recent years to nurture 'global citizens' through the various Outbound Study Abroad opportunities offered through the 'Global Studies in Economics' program. The second session of the morning saw the TSU group audit the lecture 'World Legal Systems and Management Philosophy' by Professors Ichiro Araki and Masahisa Suzuki. The TSU group engaged enthusiastically with both sessions, offering questions and insightful comments. The morning session finished with a campus tour by YNU student volunteer Yu Matsuki, who guided the TSU group to the cafeteria by the West Gate, the pick-up point for their departure. The TSU group enjoyed lunch in the YNU cafeteria before heading to their next appointment.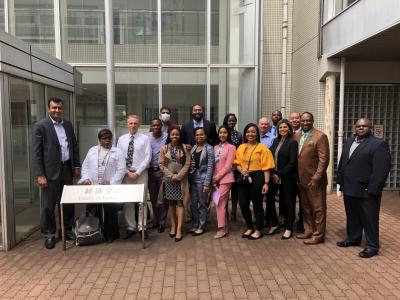 The visit was another event in an ongoing collaboration between Jesse H. Jones School of Business at TSU and Faculty of Economics at YNU. The connection began in 2015 with the visit of Professor Claudius B. Claiborne to YNU as a Fulbright Visiting Scholar. The next year, a YNU cohort lead by Professor McAulay visited TSU's Houston campus to work on a project combining innovation and narrative, entitled 'The University in the 21st Century.' The third event took place from July 5 to August 2, 2017, when Professor Claiborne brought students from the Jesse H. Jones School of Business to YNU to discuss the issue of 'Diversity' with YNU students. This month's visit, also facilitated by Professor Claiborne, marks the fourth exchange between TSU and YNU. Both institutions expressed their wish to build on this relationship going forward.
(担当:経済学部国際教育推進委員会)