'YNU Day' is currently underway at Dalian University of Technology till Dec. 14, 2015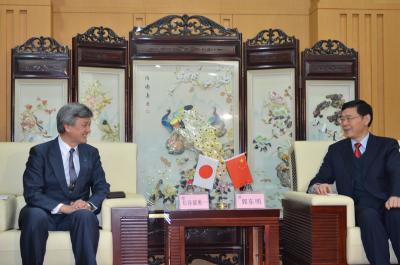 YNU is holding 'YNU Day at Dalian University of Technology (DUT)' in Dalian, China from the 13th to the 14th of December, 2015.
This event aims to make YNU better known to people of DUT through a key note speech, trial lectures and seminars by YNU professors, and to strengthen the network among students, alumni, and faculty between DUT and YNU.
When YNU Day kicked off on the 13th, YNU President Yuichi Hasebe made a courtesy call on DUT President Guo Dong Ming. President Guo hoped that deepening exchanges between the universities will lead to further development in education, and research.
Meanwhile, President Hasebe expressed his gratitude to various exchanges that the two universities had in the past. He also expected that DUT and YNU will continuously increase exchanges as well as promoting joint research in the future.
The courtesy call was followed by an opening ceremony in which both President Guo and President Hasebe made a speech. The two presidents signed an agreement on the double-degree program afterwards.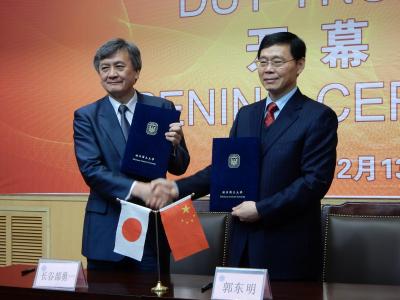 As part of the ceremony, Distinguished Professor at Institute of Advanced Sciences of YNU Yozo Fujio made a key note speech that attracted a big audience. As over 300 seats in the hall were occupied with audience, some of whom had to stand when listening to his speech.
Following the professor Fujino's speech, YNU President Hasebe introduced participants about YNU, and made a presentation on economics which was his specialized field. At the end of the ceremony, Executive Director of International Affair Fumihiko Nakamura elaborated on the YNU's entrance exams for DUT students.
After the ceremony was over, YNU had a chance to provide DUT students firsthand with information regarding its entrance exams. We received a lot of questions from perspective students. The first day of YNU Day came to an end with success.