The signing ceremony of the Memorandum of Understanding with the University of Padova, Italy was held
The signing ceremony of the Memorandum of Understanding with the University of Padova, Italy was held
On Monday November 27th, 2017, the signing ceremony of the Memorandum of Understanding with the University of Padova, Italy, was held at the University of Padova. Vice-President and Executive Director of International Affairs Fumihiko Nakamura, Faculty of Engineering Associate Professor Tomoyuki Shimono attended from YNU. The delegation were welcomed by 8 related faculties and staff including Prof. Alessandro Paccagnella, Vice Rector for the International Relations.
The University of Padova is the second oldest university in Italy founded in 1222, where Galileo Galilei had taught in the past. Faculty of Engineering and Graduate School of Engineering, YNU have concluded the Memorandum of Understanding with Department of Engineering and Management, the University of Padova in 2014. The MoU was expanded adding Department of Information Engineering and Department of Industrial Engineering, the University of Padova in 2015. In addition, the faculties concluded Addendum to the MoU regarding student exchange in 2016. Our exchange has been widened from both aspects of research and education by promoting international collaborative research through interactive internship for graduate school students and by faculties' visit to each university for giving lectures and presentations each other. Through these fruitful collaborative activities, it was decided to develop our relationship from between faculties to between universities.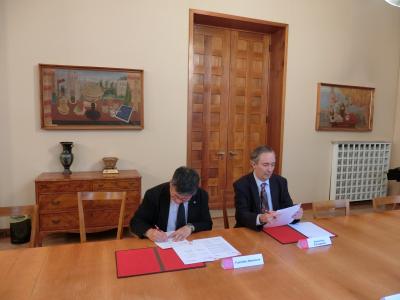 At the meeting before the signing ceremony, Vice Rector Paccagnella gave a welcome address. Then, Executive Director Nakamura introduced about YNU briefly and Associate Professor Shimono explained about Faculty of Engineering and Graduate School of Engineering of YNU in detail. From the University of Padova side, Prof. Massimiliano Barolo, Dean of the School of Engineering introduced about the University of Padova and its School of Engineering, and Prof. Pierfrancesco Brunello, TIME Commission Coordinator explained about T.I.M.E. (Top Industrial Managers for Europe), which YNU are planning to join. Through these explanations, they discussed about the further collaboration between both universities in the future.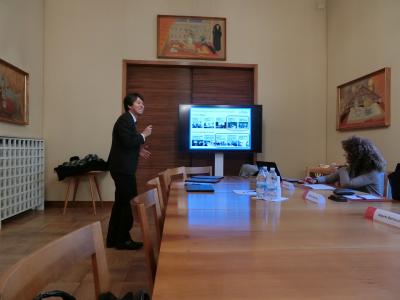 It is planned to hold an interactive workshop at the University of Padova next autumn. Also, starting a double degree program for graduate school students studying in the field of engineering is considered. With this Memorandum of Understanding, further exchange of faculties, staff, and students and collaboration between both universities are expected to be more active.