Ambassador Extraordinary and Plenipotentiary of the Republic of Paraguay to Japan and Former Ambassador of Japan to the Republic of Paraguay visited YNU
Ambassador Extraordinary and Plenipotentiary of the Republic of Paraguay to Japan and Former Ambassador of Japan to the Republic of Paraguay visited YNU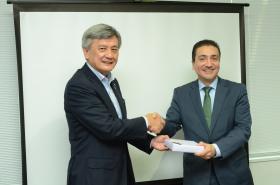 On July 25th Wednesday, 2018, His Excellency Mr. Raúl Florentín Antola, Ambassador Extraordinary and Plenipotentiary of the Republic of Paraguay to Japan and Mr. Yoshihisa Ueda, Former Ambassador of Japan to the Republic of Paraguay held a special lecture on the theme "Paraguay which will affect the future of South America" at YNU, thereafter, they visited YNU president's office with Mrs. María Liz Aquino de Florentín.
The visitors were welcomed by President Yuichi Hasebe, Professor Yoko Fujikake from the Faculty of Urban Innovation, International Office Manager Tomoko Takeuchi, and Mr. Avalos Valdez Carlos Herman and Mr. Rodrigo Rotela who study at YNU as international students from Paraguay, and Ms. Reiko Mishima who is a graduate student of the Faculty of Urban Innovation at YNU acted as interpreter.
In the meeting, President Hasebe stated welcome greetings and expressed his gratitude for the special lecture at YNU. Then, he explained that YNU has concluded academic exchange agreements with Universidad Nacional de Asunción, Universidad Nihon Gakko, and Universidad Nacional de Caaguazú in Paraguay, and the activities of YNU in South America using the projector. Followed by that, H.E, Mr. Florentín thanked for holding the special lecture at YNU. Also he said it was his great delight that the role of YNU in the field of international cooperation in Paraguay was high, especially, JICA Grassroots technical cooperation project "Paraguay's Rural Women's Life Improvement Project" that YNU operates headed by Professor Fujikake which 10 Paraguay's rural women to the International Symposium at YNU in January, 2018, is very valuable for Paraguay. Also he told that Paraguay has various interesting fields and would like to make efforts in the future for opportunities of collaboration with YNU, then the meeting ended in a peaceful atmosphere.
Through this visit, the further development of exchanges with Paraguay and YNU is expected.
(担当:国際戦略推進機構)