President Suzuki and his Delegate Made a Visit to Shihezi University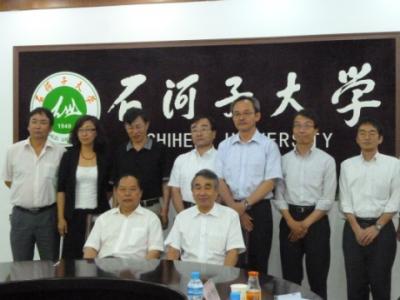 Complying with the request from Vice President Li Yan Song of Peking University, YNU party of seven lead by President Kunio Suzuki paid a visit to Shihezi University in Shinjang Uyghur aptonom rayoni on August 7, 2012.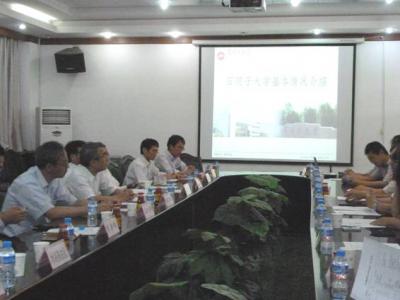 The Shihezi University is located in the town called Shihezi which is a two-hour drive from Urumqi. Urumqi is a modern urban city with skyscrapers. It is one of the largest cities in Shinjang Uyghur aptonom rayoni, and with the population of 2.5 million. There are 32,000 students, and the university covers one third of the town's area.
In the afternoon of the 7th, after arriving at Shihezi University from Beijing, a welcome reception was hosted by President Xiang Benchun. Next morning, those who were involved gathered in administrative meeting room, President Xiang and President Suzuki made greetings, followed by the introduction of the two universities. Utsunomiya University Trustee Tomoyasu Ishida who went along with YNU delegate also made a presentation.
One of the objectives for the visit was inspection and observation of "Greening of deserts." After the introduction of the research by College of Life Science instructor Li Yongguan, the delegates made a campus tour mainly on the related laboratories. In the afternoon, they visited school history museums in the campus. On the 9th, they inspected the Guerbantunnggut Desert, ninety minutes drive to the north of Shihezi. On the 10th, they observed the city of Urumqi with the guidance of Shihezi University.
This courtesy visit became a good opportunity for the the three universities, Shihezi University, Peking University, and YNU to further develop the academic exchange.